Ordinals are changing how the crypto industry and Web3 thinks about NFTs, ownership, and NFT marketplaces. 
That's also largely thanks to a number of notable Ordinals inscriptions that not only showcased how inscriptions worked, but changed how we conceived of NFTs, marketplaces, Ordinals wallets, and more.
But first, here's a quick recap of what Ordinals are and how BTC inscriptions work.
What is Ordinal Theory?
Bitcoin Ordinal theory is a new protocol created by Casey Rodarmor that assigns numbers to each satoshi (the smallest denomination of bitcoin) on the Bitcoin network. Satoshis are numbered in the order they're mined, regardless of what wallet address holds them. 
The Ordinal theory system allows every single satoshi to be tracked individually. But perhaps the biggest factor that has driven excitement about Ordinals is the protocol's capability to create Ordinal inscriptions. Inscriptions, as laid out by the Ordinals documentation, involve "[inscribing] sats with arbitrary content, creating bitcoin-native digital artifacts, more commonly known as NFTs. Bitcoin inscriptions do not require a sidechain or separate token." 
In short, content is stored directly on the Bitcoin blockchain with all data on the Bitcoin blockchain as well. 
Until now, a common criticism of NFTs (like a typical Ethereum NFT) and secondary markets is their off-chain nature. If the marketplace goes down or the off-chain database is compromised, so are your NFTs. The on-chain nature of Ordinals inscriptions has been key in lending an extra layer of security for NFT owners, and distinguishing digital artifacts from NFTs.
Notable Bitcoin Ordinal NFTs
But clearly, Ordinals inscriptions have challenged us to look beyond the digital artifacts vs. NFTs discussion. As we mentioned before, some of the biggest Ordinals NFT collections have also changed the way we view the most fundamental operations in crypto.
So, what are some of the most notable and popular BTC NFTs to date that have also given way to new ideas of what's possible in Web3?
Ordinal Punks Bitcoin NFT inscriptions: Ordinals and the fundamentals of Bitcoin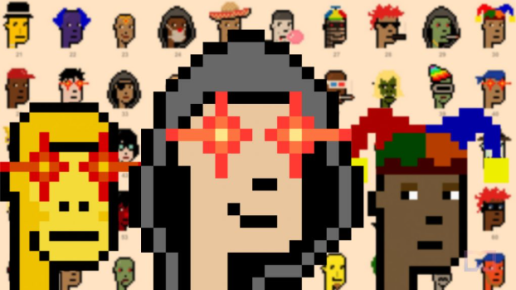 Ordinal Punks are collectible PFPs that were minted in the first 650 inscriptions on the Bitcoin blockchain. The art was created algorithmically in homage to the historic CryptoPunks.
This maiden collection of Bitcoin NFTs launched the discussion about whether JPGs and other content should be put directly onto the Bitcoin blockchain, as some people made the argument that the entire concept of Ordinals goes against the Bitcoin ethos. 
Taproot Wizards Bitcoin Ordinal inscription collection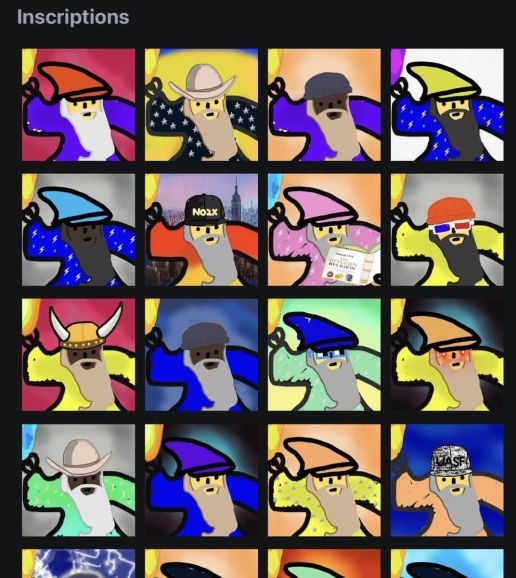 Taproot Wizards are hand-drawn NFT wizards inspired by an iconic drawing of a Bitcoin wizard created by mavensbot back in 2013. 
Shortly after the Ordinals protocol launch, a Taproot Wizard became the largest block and transaction ever on Bitcoin of nearly 4MB. This contributed to worries that Ordinals inscriptions would "bog down" the network with NFTs on Bitcoin, thereby increasing arbitrary traffic and the amount of data on-chain. 
OnChain Monkey: bringing NFTs from Ethereum to Bitcoin with Ordinals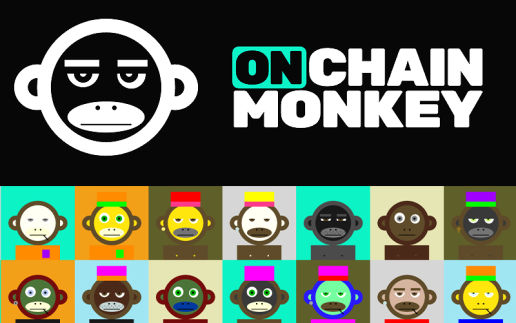 OnChain Monkey directly opposed Taproot Wizards by achieving a different record. This Ethereum-based PFP collection made its NFTs extremely small with 10,000 NFTs minted in one ethereum transaction. When Ordinal NFTs became popular, the NFT project managed to mint the entire collection in one bitcoin transaction using only 20,000 bytes of data. That's 20,000 bytes of Ordinals into a single inscription.
The small amount of data needed for OnChain Monkey's collections demonstrate its commitment to sustainability and reducing the environmental impact of Bitcoin. As a result, it may provide a solution to concerns about blockchain bloat.
The Dan Files: data variety of Bitcoin Ordinals inscriptions
The Dan Files collection consists of eclectic Ordinals NFT inscriptions by a person named, well, Dan, with Inscription number 953 serving as a directory of all of Dan's digital artifacts. The diversity of content found in this Ordinals inscription collection is what makes The Dan Files unique. The Ordinal collection contains digital art, GIFs, memes, audio files, videos, and more mediums, all of which are possible to inscribe on the Bitcoin chain with the help of Ordinals. 
Most people know NFTs as .jpgs and PFPs, but The Dan Files bring a bit more versatility to the idea of NFTs. The theme of the collection is irreverent and philosophical, showcasing one person's musing on life and technology in a sometimes poignant way.
Yuga Labs' Twelvefold collection: rethinking auctions of Bitcoin Ordinals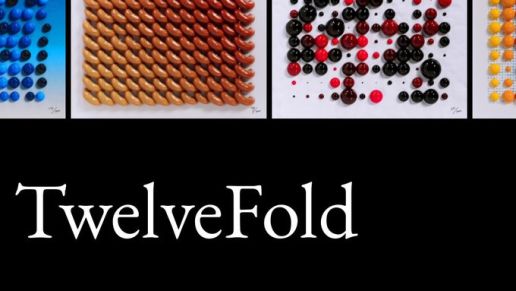 It wouldn't be NFT history if Yuga Labs didn't enter the Ordinal scene. The Bored Ape Yacht Club creators auctioned off 300 Bitcoin NFTs that were part of a collection called TwelveFold. The auction itself, however, was criticized by many for presumably negating the trustlessness of Bitcoin.
In order to participate in the auction, buyers had to make a bid by sending their bitcoin to a wallet address custodied by Yuga Labs. Yuga Labs claimed that all the losing bids would be returned and the winner would receive a TwelveFold NFT. 
In short, users had to put all their trust in Yuga Labs to properly return their assets and deliver their NFTs, which shocked many in the Bitcoin community. After all, the main goal of Bitcoin is to promote trust-minimized technology, and Yuga Labs' auction process, many believed, could have opened doors for bad actors.
The Future of Ordinals NFT Inscriptions
These are just a few of the collections making waves in Bitcoin and NFT communities at the start of 2023. Whether you like it or hate it, Bitcoin Ordinals are bringing a level of innovation to the digital asset and network many people believed would never happen. It's also opening a larger discussion about what the Bitcoin network should and shouldn't be used for. 
The debate is certainly far from over. But one thing is clear — Ordinals NFT inscriptions are shaking up the Web3 landscape. With NFTs directly inscribed onto the Bitcoin blockchain, NFT adoption has become a bigger conversation on the oldest chain in town.
What's more, inscriptions on the Bitcoin chain aren't going away soon.